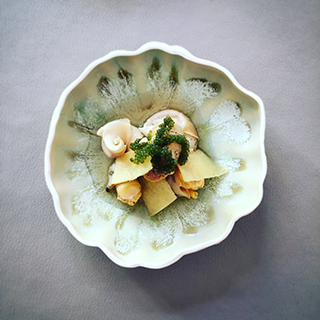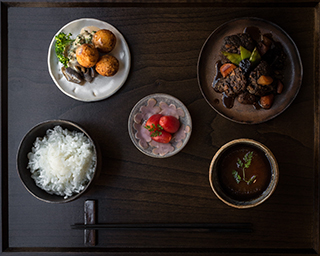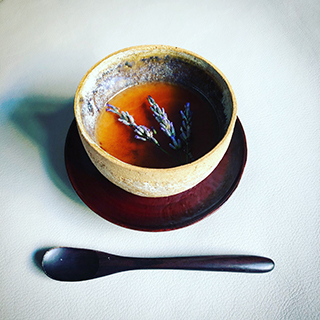 Principles of our culinary offering, shared during training seminars and offered to our external guests.
The food we offer and serve is based upon the balance of traditional Asian medicine;
Yin (◼, the earth and rigorous logic) and Yang (●, the sky, creativity and inspiration).
Our ingredients are largely organic, biodynamic or even wild. When it comes to fruit and vegetables, we respect the seasons, prioritising low food miles, the picking of ripe, seasonal produce and the promise of freshness and vibrancy. This ensures our produce is rich in the vital energy "Jing". Considering meat and fish, we ensure high standards of animal welfare and nutrition. We also offer vegan cuisine inspired by Japanese Zen: Shojin Ryori.
When it comes to nutrition, we follow ancient rules of balance, developing food according to 5 elements: balancing 5 flavours (sweet, salty, acidic, bitter and spicy) and in 5 colours (green, red, white, yellow black). Our meals are also created to ensure that balanced nutrition and digestion is maintained after consumption.
Lunches are created based on the rule of balance Ichi Ju San Saï一 汁 三 菜.
1 Soup :
broth or hot soup eaten at the beginning of the meal stimulates the appetite
3 Dishes :
1 main course: fish, meat, eggs or tofu provide the protein source.
2 side dishes composed of vegetables, legumes or seaweed provide essential vitamins, minerals and calcium
1 Grain :
rice, noodles and other grains fulfil daily carbohydrate requirements.
Ingredients are chosen based on their characteristics (hot, tepid, neutral, fresh, cold) and are cooked accordingly (Hyper Yin, Yin, Neutral, Yang, Hyper Yang), whilst also considering the environment in which they will be consumed in.
The dishes we have designed are created according to these principles and are therefore only made-to-order. We are also committed to cooking dishes to tie in with the nature of your event (analytical, creative, prospective, etc). Depending on the clientele, we can also cook dishes in line with diet therapies (anti-aging cuisine, slimming cuisine, cuisine for athletic and sporty customers, specialist diets, specialist diets for women, etc.).
Wines & Sakés
Trained in sommellerie by Franck Thomas, I was touched by the mystery of local wines. Along with dishes, they poetise life at the table.
The menu is constantly changing and gives pride of place to Japanese saké which, like wine, is a cultural drink of great delicacy.