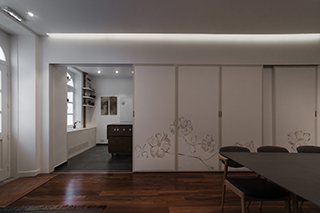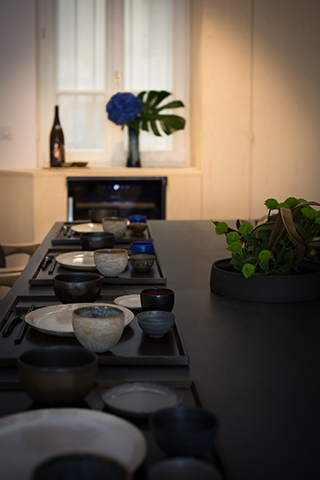 Located in Les Invalides in the 7th arrondissement of Paris, our Dōjō offers a reception space of 50 m2, composed of a kitchen and lounge area.
Inspired by Japanese Zen and designed considering Feng shui principles, the space naturally encourages mindfulness and relaxation.
Our primary aim is to train chefs in ancient nutrition in order to evolve the practices of out-of-home catering. However, outside of these courses, the space is also available to host professional events. WAYO will take care of the catering, ensuring it's tailor-made to suit the style of event (analytical, creative, futuristic).
The Dōjō welcomes the following events:
– Meetings, seminars, team-building and training events
– Cookery and tasting workshops
– Functions (breakfast, lunch, dinner, cocktails).
Potential Options:

The décor was influenced by WABI-SABI; the environment, with it's simple aesthetic, welcomes the calm passing of time. Natural materials live and wear, ceramics show their age and floral art depicts the passing seasons. Handmade, artisan craft is celebrated for its imperfections and energy. Hand crafting gives objects an unexpected beauty, highlighting their individuality making them unique and precious.
The Dōjō offers:
– A Reception room inspired by Japanese zen, created using Feng shui
– Tailor-made menus for events, based on traditional Japanese nutrition
– Carefully balanced and explained pairings of dishes and wines or sakes
– The option to enhance your event with a seminar, culinary or wine-making workshop (on request)
Our Dōjō is equipped with high-quality technical equipment (video projector, projection screen, wi-fi access, cloakroom, whiteboards, cimaise) and offers disabled access.
Contact us for terms and availability.